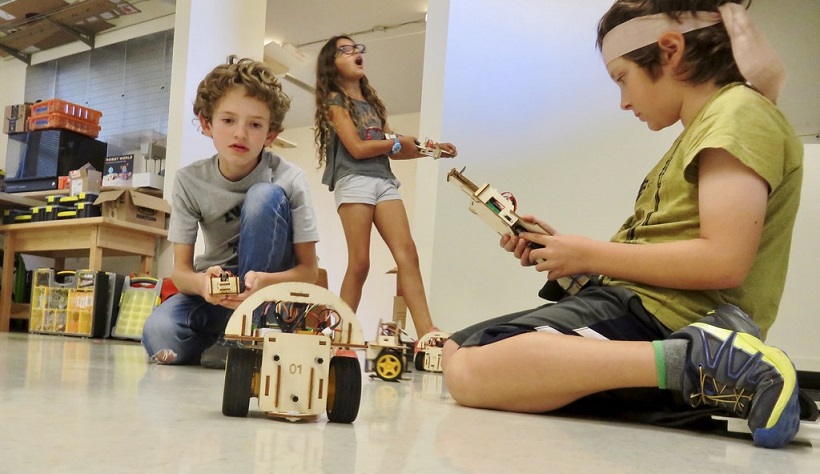 Robotics classes understand the demands of a student. The developing world demands students to have the necessary skills that make them stand out from the crowd. We always look into advanced teaching methods; to provide the students with quality knowledge that benefits them and helps them develop their intellect. With the nourishing robotics classes, students gain a broader perspective to look at things when they study with us. Learning is so fun and a rejuvenating process at Junior Engineers!
Our curriculum assists the students to have a bottomless and precise knowledge of the working of robotics. Each aspect of the module gets them working on actual models. That plays an indispensable role in awakening the problem-solving and critical-thinking skills of a student. When the students go through our meticulously outlined process, they face challenges that shape them to perceive the knowledge enriched with infinite amounts of brain-boosting elements. In every aspect, our franchise stands out as the leading education provider across north India. We make it a priority to help our students cope with the developing world, and thus we bring them the learning laced with the goodness of ultra-modern techniques of teaching and infused with the richness of the STEAM education module. The focus never deviates from our side when the situation demands developing minds of tomorrow; with us, the students learn, prosper, and eventually blossom into an owner of great expertise!
When the educators at Junior Engineers indulge with your kids, they dig out exemplary skills present within them. The students are always encouraged to ask questions regarding the topic. Their urge to learn gets fulfilled by the teachers; the supreme and refined methods to teach can get the students to climb the ladder of success and be the best version of themselves.
Students savor our assistance throughout the course, and with every class that they attend, something fresh adds up to their skillset. For a child to succeed in life, they need a substantial amount of exposure in life.
The group projects are an excellent way for imparting the benefits of working together to students; they get to put forward their ideas in a group, and they also interact with other students, which encourages collaborative work.
Robotics also benefits the students by polishing their creative side; each project requires a certain amount of creative thinking to accomplish the goal. Working on robots has a positive effect on the learner; they experiment with loads of tools and modern technology. Junior Engineer makes it possible for the students to get their concepts inline, and the right application also holds as an area of development.
Have your kids study at the renowned Junior Engineers franchise; the robotics training franchise serves the students with exemplary education benefiting them at every point of their life. Our doors remain open for the young seekers of knowledge, join your kids in our classes and observe their creatives take a jump start!