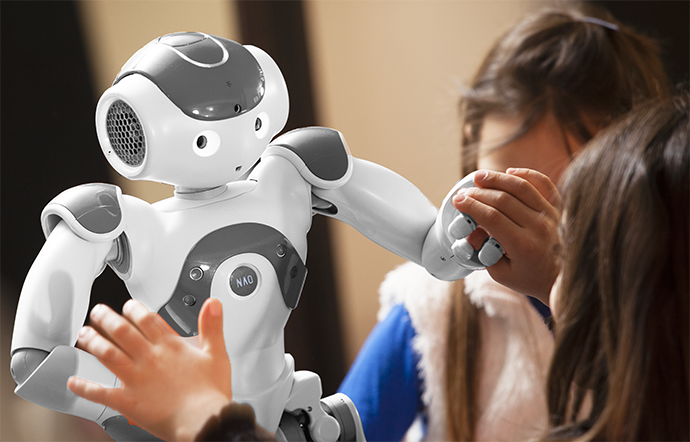 Robotics classes for kids leave an everlasting impact on students' minds; with the derivative course, we aim to find the best present in a person. Robots are settling a place for them in our environment, and gradually humans seem to be getting accustomed to technology. Junior Engineers have systematically prepared a program infused with the supreme knowledge of applied sciences and aims to capture a person's capability to perform a practical task. Our program stands to be forward in time and deems to be a governing education model for students.
As the child progresses to higher grades, the curriculum starts to get more competitive and harder to perceive. With the help of robotics, students have shown impressive improvement in the areas of science and mathematics. The working knowledge implanted in our institution gets a great deal of advancement for students, who find it challenging to comprehend theoretical education. While studying at school, students seldom miss out on basic knowledge that carries a surpassing value contrary in our classes— we make it a priority to summarize the varied topics discussed in the sessions that students attend.
Learning is a prolonged process that requires a lot of patience and correct guidance to achieve. Robotics education provides the appropriate environment demanded by a student to polish their mind; classes at Junior Engineers give a spark to knowledge-making, making the kids get brisker and ready for hindrances approaching in the way to attain. At Junior Engineers Robotics Classes, we go by the words  'Quality instead of Quantity' overburdening the students with a heavy workload is something we keep a mile away from our institution. The distinctive attributes that the robotics program possesses and perfectly maps out for the students show the quality that we stock in our armory. Students develop keenness for different skills and grow inquisitive for acquiring new knowledge; when they learn with us, they learn to prosper!
Learning, discovering, and eventually implementing is the excellence process that the Junior Engineers team applies to the students. The moment your child starts their journey with us to the very end of it, we make it a priority to get an experience that they can remember and apply as they move ahead in school and even go for higher education. The perks that our reputed institution holds are remarkable and carry a high value for today's minds. Having your kid grow with us would be a beneficial time utilization source for them and would bring them much closer to understanding the fundamentals on which most things work. The Robotics education franchise truly showcases numerous advantages that seem tough to ignore; bring your kid to the classes at Junior Engineers and present them with the knowledge that they truly deserve.